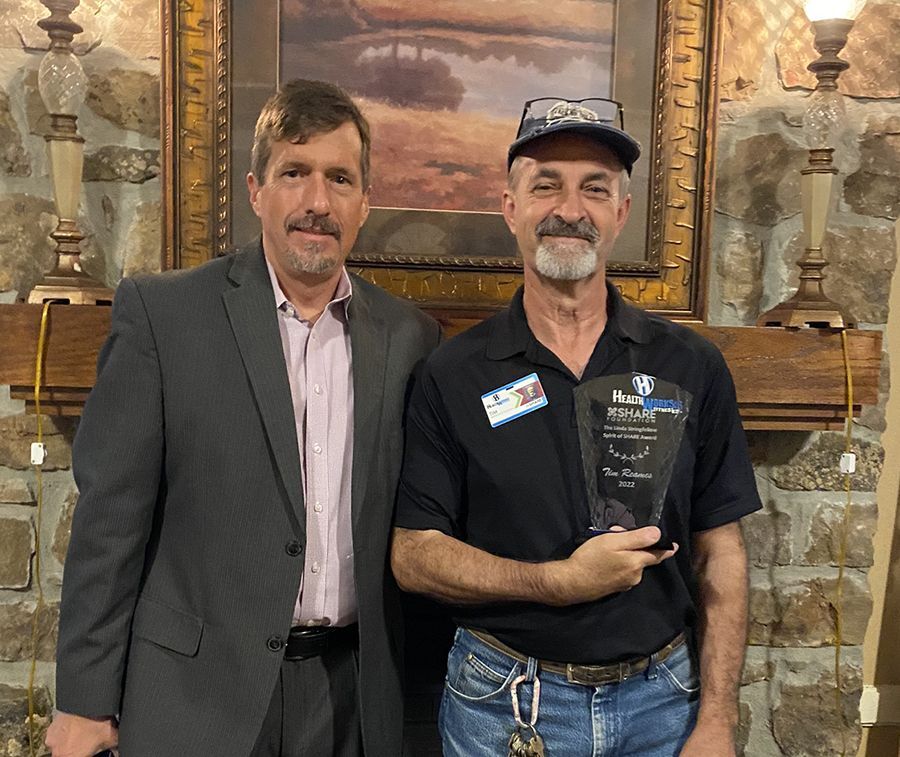 Dr. Brian Jones, President, and CEO, announced Tim Reames as the "Linda Stringfellow Spirit of SHARE" Award winner for 2022.

The "Spirit of SHARE" Award was created in 2004 to recognize employees of SHARE Foundation who go above and beyond their everyday duties. In 2017, the award was renamed in honor of retiring SHARE President/COO Linda Stringfellow to the "Linda Stringfellow Spirit of SHARE" Award. Employees who have been with SHARE for at least one year are eligible with the exception of the President/CEO.

Nominees are made by fellow SHARE employees and are evaluated on their willingness to go the extra mile, as well as their compassion, loyalty, responsibility, and integrity toward their co-workers, patients, and members. An anonymous committee of the SHARE Foundation Board reviews the nominations and makes the selections.

This year there were two finalists and one, overall winner. Both finalists received an engraved award as well as an EXTRA day of paid vacation. The winner received an engraved plaque and an additional week of paid vacation.

The first finalist is Britney Snell, Vice President of Finance for SHARE Foundation. Those who nominated Britney said, "When the word integrity comes to mind, Britney is the first person I think of. She is always willing to step outside the box and help in any area. She is kind and compassionate, and her professionalism never waivers. She can place a positive spin on any conversation in the room. As I self-reflect, her morals and values are those that I strive to mimic."

Our second finalist is Debbie Watts, Vice President of Community Impact for SHARE Foundation. Those who nominated Debbie said, "Debbie's integrity cannot be matched by anyone. She stands up for what she believes is right for this organization and its future with regard to the direction of projects, employees, and members of the community. She always tries to be inclusive of those that need a voice at the table. Debbie has an outstanding work ethic and a remarkable ability to multitask. She is very resourceful and seems to know everyone in town. Don't let Debbie's small size fool you either; she knows how to ensure her voice is heard...even when she's the only woman in the room."

The overall 2022 Linda Stringfellow Spirit of SHARE Award winner – Tim Reamse is the SHARE Foundation Maintenance Tech. Those who nominated Tim said, "Tim is a valuable member of not just the HealthWorks facility, but other SHARE agencies as well. He is quick to offer help, displays great character, and is a vital part of our organization. We miss him when he is gone! Tim is always striving to keep HealthWorks maintained by executing various tasks. They also said, "He kept that compassion through the year that I have been working here and continues to be one of the nicest people I know. I look up to him. He cares for everyone he comes into contact with and tries to show that love. He is one of the most inspiring and comforting coworkers I have ever had!"

Congratulations to the 2022 Linda Stringfellow Spirit of SHARE award winners.