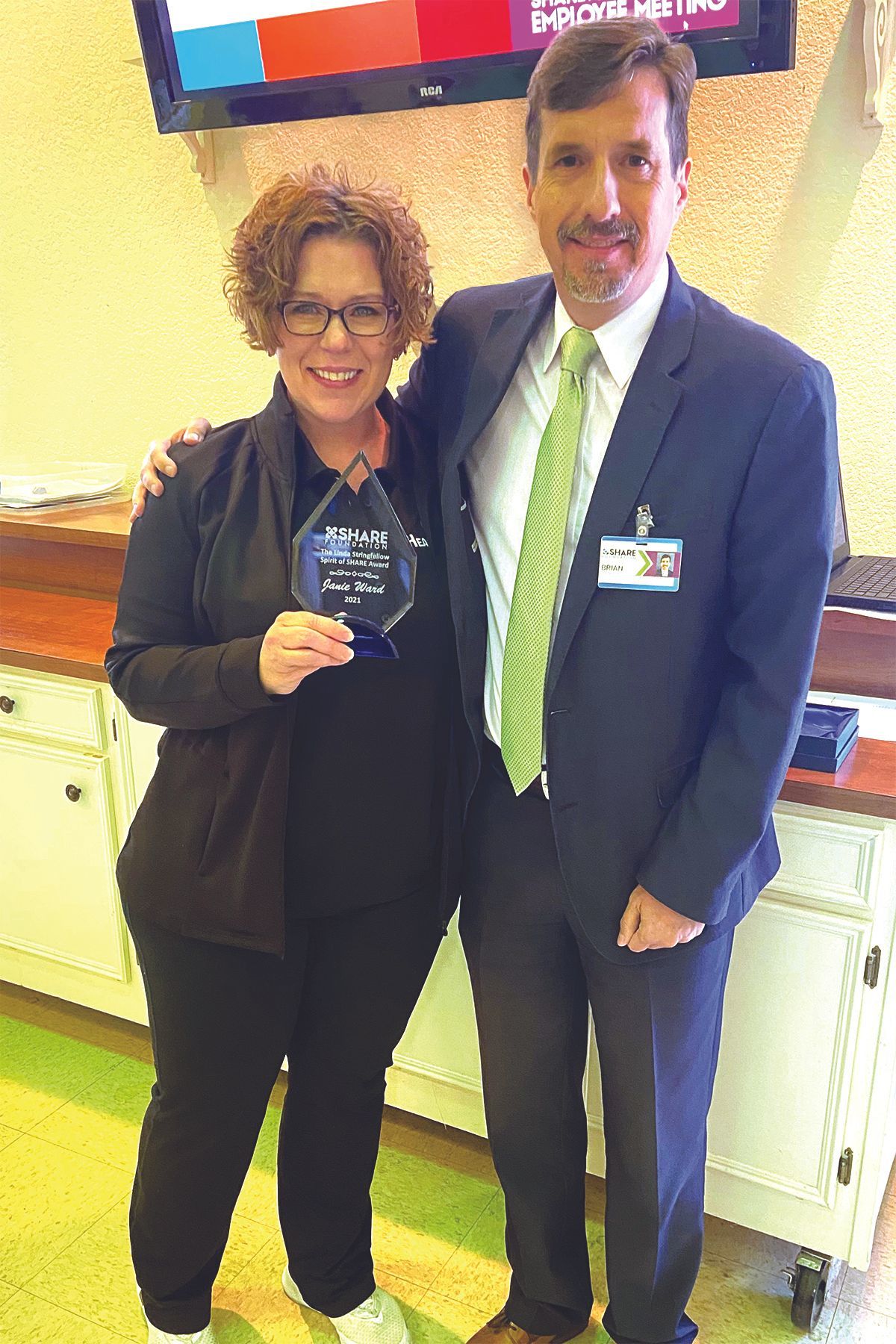 At SHARE Foundation's Annual Employee Meetings, Dr. Brian Jones, President/CEO, announced the "Linda Stringfellow Spirit of SHARE" Award winners for 2021.
The "Spirit of SHARE" Award was created in 2004 to recognize employees of SHARE Foundation who go above and beyond their everyday duties. In 2017 the award was renamed in honor of retiring SHARE President/COO Linda Stringfellow to the "Linda Stringfellow Spirit of SHARE" Award.  Employees who have been with SHARE for at least one year are eligible with the exception of the President/CEO.

Nominees are made by fellow SHARE employees and are evaluated on their willingness to go the extra mile, as well as their compassion, loyalty, responsibility, and integrity toward their co-workers, patients, and members. An anonymous committee of the SHARE Foundation Board reviews the nominations and makes the selections.
This year there were two finalists and one, overall winner.  Both finalists received an engraved award as well as an EXTRA day of paid vacation.  The winner received an engraved plaque and an additional week of paid vacation.
The first finalist was Guadalupe or 'Lupe' Paredes, HealthWorks Fitness Center's Membership Services.  Those who nominated Lupe said, "She is always kind, compassionate, and hard-working.  She possesses many of the qualities that SHARE represents and is extremely deserving of this award.  She is an example to follow, and she takes pride in her job.  Her smile touches everyone.  She always greets and gets to know everyone that comes through the door.  She goes above and beyond and lives by the IMPACT values."
Our second finalist was Sabrina Yeasky, SHARE Foundation's Payroll & Administrative Clerk. Those who nominated Sabrina said, "She consistently has a good attitude and will drop what she's doing to help an employee.  She clearly demonstrates how to put SHARE employees first.  She was great when she was with us at HealthWorks, so we miss her over here.  She's doing a great job in administration."
The overall 2021 Linda Stringfellow Spirit of SHARE Award winner was – Janie Ward, HealthWorks Fitness Center's Member Services Director.  Those who nominated Janie said, "Janie is a team player willing to take on any challenges. She has stepped up to lead with integrity.  She has adapted to so much change and has even helped others with change. Janie is there when you need her and always with a smile on her face.  She is motivated and ready for the day, whatever it holds.  Despite the challenges surrounding her, she still rises above, gets the job done with enthusiasm, and consistently manages with compassion."
Congratulations to the 2021 Linda Stringfellow Spirit of SHARE award winners.