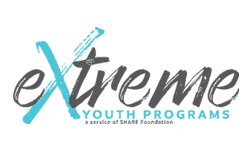 The SHARE Foundation announces the name change of its agency PRIDE Youth Programs to eXtreme Youth Programs. The name change comes as part of the organization's way of rebranding one of the most interactive and engaging drug and alcohol prevention programs for youth in Union County.

For years PRIDE Youth Programs has served as a catalyst in focusing the energy of young people who can create real solutions to build a safe and drug-free world. Because of the implementation of this program, parents, adults, and community members have been able to offer guidance and support to teams of youth dedicated to making a difference in our community.

With the name change, it is the goal of eXtreme Youth Programs to continue to promote the four pillars for which the organization was founded; community outreach, drug education, drug-free activities, and community service. Leaders of the program believe that in order to continue to engage youth, families and the community, members must go to extreme measures to push forth the message for which the organization stands. It is the intent of eXtreme to go beyond the norm and do prevention at a whole new level. According to Carlaskio Smith, director of eXtreme Youth Programs, "With rebranding the organization, our goal is to take research-based prevention strategies and make them more engaging and relatable for our community; thus, creating an emerging model of prevention that is sure to be effective and beneficial for our youth and families right here in Union County."

eXtreme Youth Programs is one of 7 agencies and programs of  SHARE Foundation. SHARE is a non-profit operating foundation in El Dorado, Arkansas. SHARE, whose vision is Building a Healthier Community, has been championing community health and well-being in South Arkansas since its founding in 1996. The other agencies of SHARE including: Chaplaincy Services at MCSA, Grants, HealthWorks Fitness Center, Interfaith Clinic, Life Touch Hospice, and Scholarships.

For more information about eXtreme Youth Programs or to set up a presentation, eXtreme can be contacted by phone at 870-864-5121.