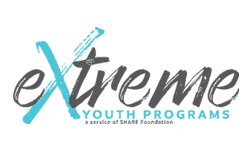 eXtreme Youth Programs was added in 1998 as a component of the prevention impact of SHARE Foundation because drug use is the leading cause of death for youth in our country.

​​​​​​​A mission. A plan. Solutions. eXtreme Youth Programs focus the energy and creativity of young people who work together to create real solutions to build a safe and drug-free community. Parents, adults, and community members offer support and guidance to serious members of eXtreme aimed at making a difference.
Furthermore, eXtreme takes research-based prevention strategies and transforms them, making them more engaging and relatable for the people of our community. Through this practice, eXtreme has created an emerging model of prevention that is sure to be effective and beneficial for youth and families in our local community. eXtreme is exciting, fun, and plays a vital role in helping to build a better and healthier community.
Current Programs
---
Some of the age-appropriate programs designed to educate and motivate youth and families in the development of healthy, drug-free youth include:
The Samantha Skunk program that targets lower elementary students in grades K-2.  This program features junior high and high school students dressed in full costumes as a skunk, parrot, and panda to educate younger students about the dangers of tobacco or about prescription drugs. 
At the high school level, eXtreme members create performances using music and drama to promote no use of tobacco, alcohol, and other drugs. eXtreme members reach out to their peers, younger students, and the community with an assertive drug-free message.