What we do
---
Palliative Care is a unique specialty that utilizes a team approach and partners with patients and families with serious illness to ensure symptom management, comfort, and quality of life.

In conjunction with patients's other doctors, the Palliative Care of South Arkansas (PCSA) team can provide an extra layer of support for patients, of any age, with serious illness - whatever the diagnosis, at any stage along with curative treatment options.

The palliative care team will spend time talking and listening to you and your family. They will make sure you completely understand all of your treatment options and choices. By exploring your personal goals, the Palliative Care Team will help you match those goals to the options. They will also make sure that all of your doctors are coordinated and know and understand what you want. This gives you more control over your care. 

Support and Comfort beyond treatment.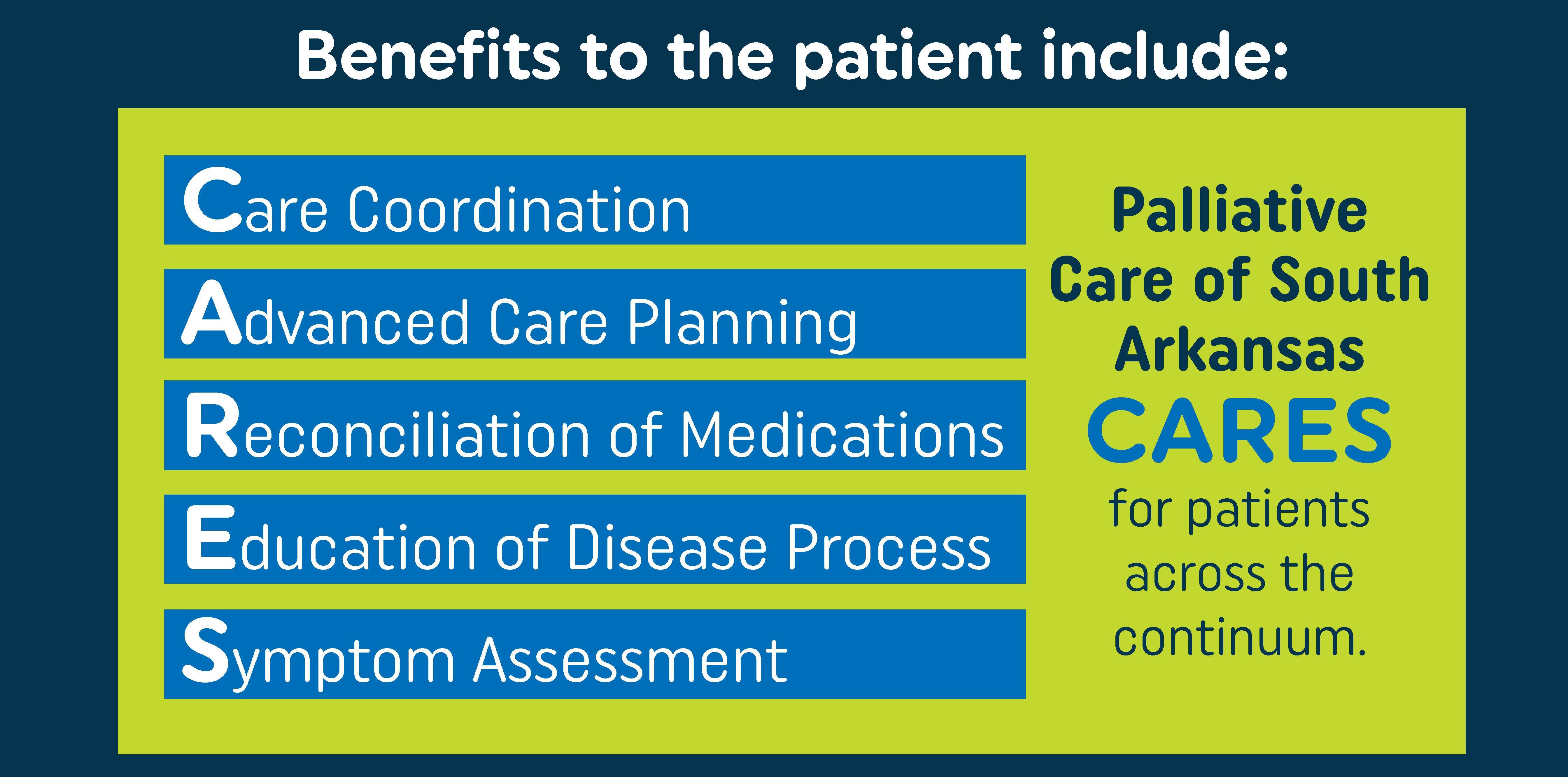 ---
5 Myths  About Palliative Care 
Palliative Care is still widely misunderstood by many Americans.  Here are 5 examples of the many misconceptions some have: 
Palliative care is end-of-life care and speeds up death. Palliative care focusses on symptom management, while supporting the est quality of life for patients with serious illnesses.  Palliative care is often provided at the same time as curative therapies.  Patients who receive palliative care often live longer when they receive care early on in their illness. 
Taking pain medication causes addiction. Patients with serious illness who need medication to control their pain do not generally become addicted.  Sometimes patients with severe pain need an increase in their medication over time in order to control the pain.  The increase is not due to addiction but a result of becoming tolerant to medication. 
If my doctor recommends it, he or she has given up and believes there's no hope for me.  A primary goal of palliative care is to improve the quality of life for patients.  When doctors recommend palliative care for patients with a serious illness, they want their patients to live as fully as possible.  
If I want Palliative Care, I will need to change doctors.  Palliative Care is provided by a specialized medical team who serve as consultants that work along with the patient's other treating physicians. 
Palliative Care only benefits patients.  Case studies show that families feel a huge sense of relief when they see that their loved one is no longer suffering and finally able to eat, sleep or just participate in daily life.