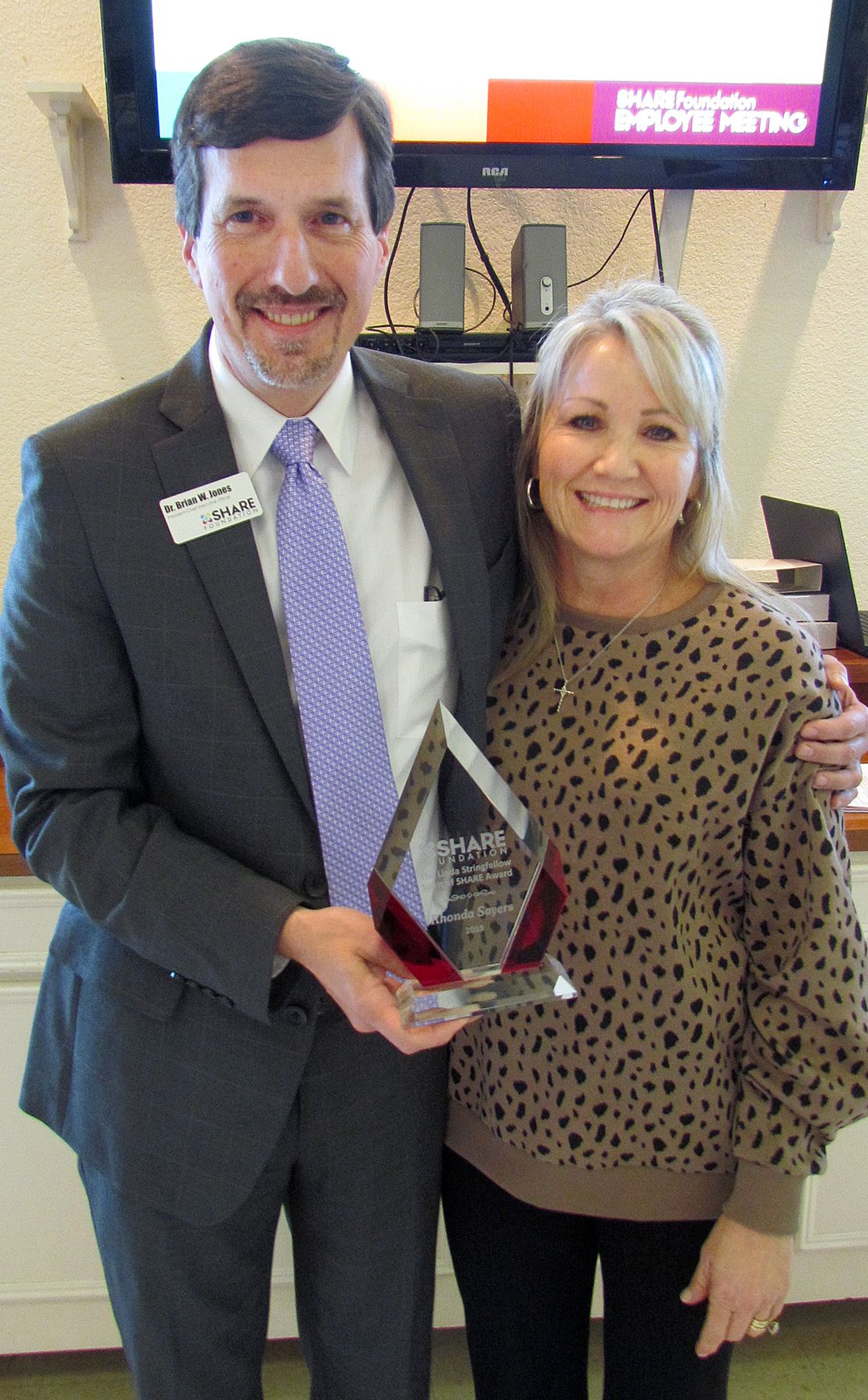 At the SHARE Foundation Annual Employee Meeting, Dr. Brian Jones, President and CEO, announced the "Linda Stringfellow Spirit of SHARE" Award winners for 2019.
The "Spirit of SHARE" Award was created in 2004 to recognize employees of SHARE Foundation who go above and beyond their everyday duties. In 2017 the award was renamed in honor of retiring SHARE President/COO Linda Stringfellow to the "Linda Stringfellow Spirit of SHARE" Award.  Employees who have been with SHARE for at least one year are eligible with the exception of the President/CEO.

Nominees are made by fellow SHARE employees and the nominees are evaluated on their willingness to go the extra mile, as well as their compassion, loyalty, responsibility, and integrity toward their co-workers, patients, and members. An anonymous committee of the SHARE Foundation Board reviews the nominations and makes the selections.

This year there were three finalists and one, overall winner.
The first finalist was Shonda Ratliff, Life Touch Hospice Clinical Director. Shonda is a team player and always reaches out to help those in need.  She encompasses the attributes for a true leader.  She has committed herself to excellence and does what it takes to make sure that the job is done and done right. She leads by example. Shonda has proven herself to be loyal to her colleagues by being a listening ear and offering encouragement when it is needed.  She has a heart of gold and always puts others needs first.
Our second finalist was Janie Ward, HealthWorks Fitness Center Member Services Manager.  Janie is a positive person who is even-tempered, tactful, and helpful. She has a heart for what we do at SHARE.  She is a kind, hard-working, and is compassionate about her job and our members.  She is an excellent leader and mentor for all other employees to look up to and shows professionalism at all times. 
The third finalist was Amelia Jackson, Life Touch Hospice CNA. Amelia is the epitome of the perfect employee.  She is always willing to help anywhere and anytime that help is needed.  It is obvious that she cares for her patients and their families and they really like her.  Amelia goes above and beyond caring for her patients and is very considerate of others including her coworkers. 
The overall 2019 Linda Stringfellow Spirit of SHARE Award winner is – Rhonda Sayers, HealthWorks Fitness Center Group Fitness Coordinator.
Rhonda is an extremely caring individual who goes above and beyond her responsibilities for both members and her team.   She is a constant encourager and not only does the right thing, but requires it of her team.  She is the life of this place and can be hot-headed defending someone (or a cause) one minute and a split second later, absolutely hilarious making us laugh.  She is inspirational and motivational.  Rhonda always rises to any challenge that may come her way.  She's as beautiful on the inside as she is on the outside. She always has a smile on her face and a kind word for whoever she meets. When needed, Rhonda offers correction without sounding condescending. She is never content with the status quo.  She never complains about being tired but treats each class like it is her first class of the day. She is easy to talk to and has a wealth of information in her head. Rhonda treats all encounters-members and employees- with respect and dignity.
Rhonda received an engraved plaque and an additional week of paid vacation. Congratulations to all our 2019 Linda Stringfellow Spirit of SHARE award winners.